Summer is coming (right? it's going to come to Chicago this year....) and our plans for our deck continue to evolve.
If you were around last summer, you remember that we had
a new deck built
. This summer we hope to seal the deck to keep it as beautifully cedar as possible. Once that project is complete Hubs decided he wants to build us a patio table.
Originally we planned to find one on Craigslist or (even better) Freecycle, but once he saw this little wonder online, all bets for a "normal" table were off:
Because why wouldn't you have a
patio table with beer buckets built in
?! Being an eternal optimist, I love to imagine all the bottles of Tazo green tea that puppy will hold :)
When I got pregnant I read on all the blogs and forums that sleep dissipates as you reach your due date and I always thought, "Maybe for other chicks, but I KNOW I'll be able to sleep."
Funny how irony works, because I am in the middle of week 32 and I maybe sleep two nights a week. The other nights I lay in bed, thinking about things like "If we have this table, how will we get shade on our deck because it doesn't come with a built-in umbrella!"
I wish I was kidding, but that really is what I lay awake thinking about at night.
So, the researcher in me reached out to Google this weekend to uncover my options and these are the final four I've found:
1. Motorized Awning
These are the "Cadillac" of awnings. Priced around $2,400 they will beautifully shade your entire deck space. They use a handy little remote control to roll out and in, giving you as much or as little shade as you'd like throughout the day and evening.
2. Manual Awning
Equally as beautiful as the motorized version, these awnings retract and expand via hand crank and are priced in the $500-$1,000 range. They also cover a large area and can offer as much or as little shade as you'd like for that area.
3. Free-Standing Umbrella
This option comes in around $150-300 and is handy because it's movable, so we can put it wherever we'd like on the deck. If we want to eat in the sun but keep Billy covered in his play pen, we can adjust the umbrella to do just that.
4. Table Umbrella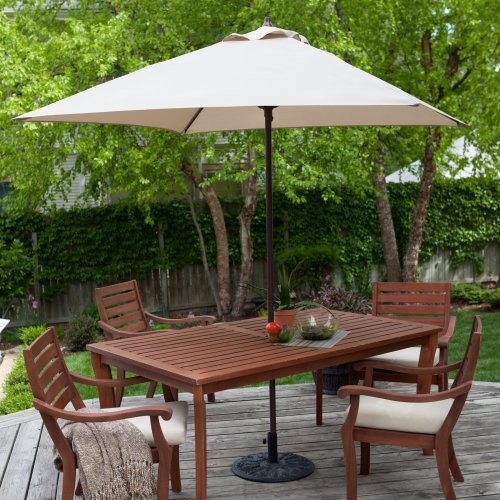 The classic built-in table umbrella is the least expensive of the sun shade options I've found. They range anywhere from $50-300, depending on retailer and of course are commonly found on Freecycle/Craigslist. We won't have the flexibility of shading specific areas of the deck the way we would if we had a moveable umbrella or an awning, but when it's saving hundreds and hundreds of dollars...which option do you
think
I'm going to choose?
Who knew something as simple as an umbrella could make me lose sleep at night? Especially since it's snowing here today. Oh, sweet home Chicago.
What gadgets do you use to stay cool outside in the summer?
(If you haven't entered my Kindle Case Giveaway, be sure to get to that post by clicking right here!)